New Hope may appear to be a sleepy, small town at first glance, but holiday visitors often turn into longtime residents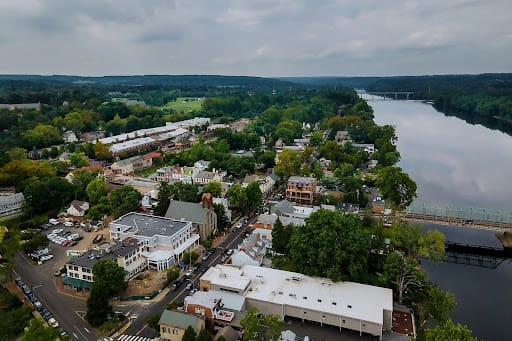 Situated upon the shores of the Delaware River, the community of
New Hope
is quaint, picturesque, and filled with old-fashioned charm. While New Hope may appear as a sleepy, small town at first glance, those new to the region may be surprised to stumble upon such an absolute gem. Highly adored by the staff at
Travel + Leisure
and
USA Today
, the community of New Hope is one of Pennsylvania's most loved places to call home, and here are a few reasons why.
One of America's favorite towns
The residents of New Hope are not the only ones to have fallen hard for the charm and authenticity of their hometown.
Travel + Leisure
and
USA Today
have featured New Hope in their publications numerous times, especially in recent years. New Hope has been named the perfect weekend getaway, a bucket list destination, and one of the nation's best small towns. In recent years, the COVID-19 pandemic has taught millions of people not to wait on their dreams and make bold moves in every aspect of their life. Many Americans have been afforded the opportunity to live wherever they would like, thanks to the growing number of companies allowing their employees to work remotely from anywhere in the nation.
Now more than ever, many Americans are choosing to pick up and move to that quaint New England town they have seen in dreamy television shows and in the movies. For many, New Hope seems to be the perfect place to call home for dozens of reasons.
A luxe transformation in recent years
While most newcomers have only discovered New Hope in recent years, many famous faces have actually rediscovered the community through their efforts to escape the hustle and bustle of bigger cities in search of more space and peace of mind. In recent times, residents of this quiet town have witnessed some of the biggest names in the world making themselves at home within the community. Supermodel Gigi Hadid, comedian Tina Fey, and Academy Award-winning actor Leonardo DiCaprio are just a few of the stars who have been seen exploring the streets of New Hope. Top-notch schools, spacious homes on generously-sized lots, tranquility and privacy, and an otherworldly sense of calm not simply found within larger cities are only a few of New Hope's more attractive features which have attracted denizens of all types.
One of Southeastern Pennsylvania's highest qualities of life
From education to community involvement and riverfront dining and beautiful parks, the residents of New Hope enjoy a higher quality of life compared to many other similar villages in the northeast. While adults have an easy commute to high-paying jobs in adjacent Philadelphia, students attend public and private high-performing schools.
New Hope-Solebury School District
, the local public school district, features highly rated schools across all grade levels, with graduating seniors performing higher than average on college entrance exams and attending some of the most prestigious universities in the region. Recently, titans of industry, small business owners, and some of hospitality's most prestigious names have discovered (or rediscovered) New Hope and found refuge outside the city, away from cramped apartment buildings and noisy late nights. This recent revitalization has brought a sense of understated luxury and life to this quiet, low-key gem and made things somehow even nicer than they had been before.
Cozy, quaint, and nostalgic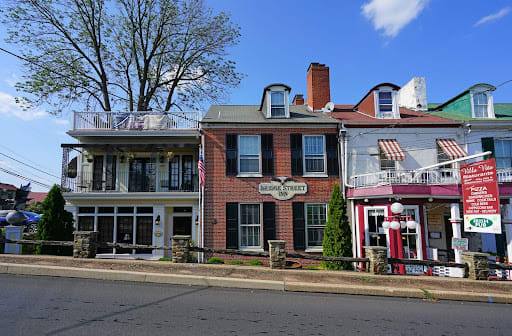 The architectural style reflected along New Hope's Main Street and surrounding business district is authentically reminiscent of its 19th-century founding. Antique shops, carriage house-style lodging, Victorianesque mansions, and old-fashioned mom-and-pop businesses line the streets, bringing a bit of the past to the present and old-fashioned charm to newer generations. A casual lunch at
The Burgerly
, an afternoon spent shopping for unique finds at
upMade
, and a relaxing pampering session at
Nurture Spa
are a few of the locals' favorite ways to spend a day in the heart of town.
Local shopping, dining, entertainment, and culture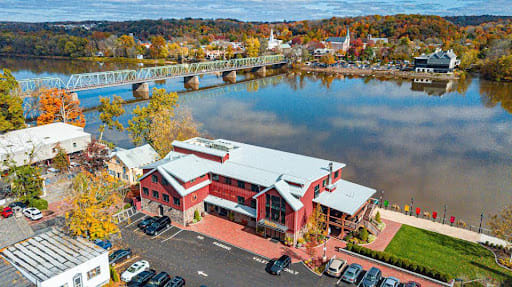 While New Hope does boast its own array of glamorous, high-end amenities which have recently attracted some of the best-known names in show business, lucky locals do enjoy a low-key, old-timey aura regularly. Locally owned shops, family-run dining establishments, an impressive theatrical scene, and beautiful riverfront views and amenities have contributed to New Hope's all-American authenticity and unmatched friendliness.
Stella of New Hope
is one such establishment, which has a perfect balance of refined, modern tastes and classical elegance. Set in barn-like digs on the river, guests are treated to white-glove service and a menu featuring Atlantic oysters, local produce, and rustic accompaniments.
A riverfront location adjacent to New Jersey
New Hope is situated upon the Delaware River, just across the water from Lamberty, New Jersey. Locals living here are afforded easy access to friends, family, and jobs that might be found in New Jersey. A life lived in a riverfront community also provides locals with unique opportunities to live in waterfront estates, access to restaurants boasting incredible views, and a unique array of outdoor activities.
Embracing a supernatural past
Legend has it, a community boasting such a rich, storied history also has a few ghostly residents who may not have ever left.
Ghost Tours of New Hope
hosts a lantern-lit walk through central New Hope, the most haunted square mile in the world, every Friday from June through Thanksgiving, with an extra Saturday night tour taking place during the month of October. Based on the tall tales of local author Adi-Kent Thomas Jeffrey, this hour-long spectacle is just one experience on the unofficial New Hope bucket list.
New Hope is also home to several haunted inns that are perfect for a spooky staycation, museums with late-night visitors, and the ghost of former Vice President Aaron Burr, who actually
fled to New Hope
after his now-infamous duel with Alexander Hamilton.
Probably the most haunted spot in town is
The Logan Inn
, with a particularly high number of spooky events having been observed in room six. This sunny room is oddly the coldest and usually smells of sweet lavender, often credited to the presence of Emily Lutz, the daughter of a former owner.
Unwavering support for the LGBTQIA+ Community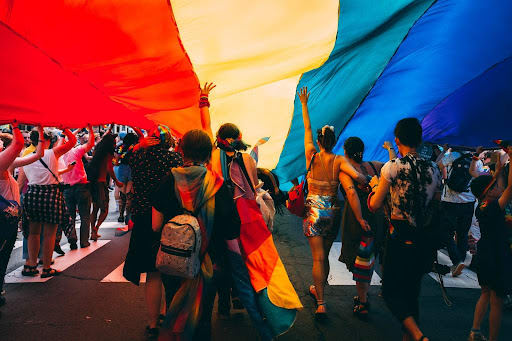 New Hope is a melting pot for folks from all walks of life. In the 1940s, the town gained popularity among artists, musicians, and other performers for its eclectic, friendly, and accepting sense of community. New Hope is one of Pennsylvania's most celebrated LGBTQIA+ travel destinations, with more visitors choosing to become permanent residents than ever before. New Hope is also home to several friendly gathering spots, with Main Street being the epicenter of Pride during the month of May. Each year, a week-long celebration takes place during
New Hope Pride Week
, featuring a parade, live performances, picnics, art exhibits, and countless other celebrations.
Only 40 miles from Central Philadelphia
New Hope is located only 40 miles from the center of Philadelphia, making it an excellent option for those commuting to offices in the nearby city. One of Philly's more upscale exterior suburbs is just removed enough from the city to boast spacious homes positioned on generously sized lots within peaceful neighborhoods but is close enough that heading into the office every day isn't impossible or something to lament.
Long weekends on the coast or in the city are easy feats
Vacations are nice but are not always feasible. Luckily, New Hope is a quick drive from many of the Northeast's most noteworthy destinations. Many of these, coincidentally appearing on the bucket lists of both locals and visitors alike, are situated just 75 miles northeast of New Hope in the Big Apple. New Hope is close to multiple highways, allowing travelers different options for driving into New York City if one route is experiencing heavier traffic than normal. Concurrently, Atlantic City, Long Beach, and the remainder of the Jersey Shore are also a simple road trip away, all less than 100 miles from your doorstep.
New Hope truly does offer something for everyone. From old-fashioned architecture to eclectic festivals to natural beauty and local retail therapy, the team at
Paula Campbell Homes
can help you find the home of your dreams in one of Pennsylvania's most sought-after communities, close to where Paula herself has
resided
for two decades. Whether you're interested in retreating back to a new, modern estate or a warmer, red-brick abode, give Paula Campbell a call today.